Copy of St. Augustine & "Nights of lights" Trolley, Scenic Boat Tour & Dinner Columbia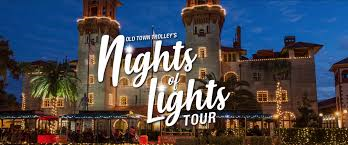 Duration: 10 Hours (approx.)
Location: ORMOND BEACH, Florida
Product code: PSZ5NW
December 14, 2023 –. Departs Vero Beach, Viera, Cocoa, New Smyrna, Ormond, Palm Coast

St. Augustine & "Nights of lights Includes:
Arrive 11:30am Ripley's Believe it or Not Museum
Arrive Noon Scenic Dolphin & City Boat Tour

Free Time to explore St. George Street 2 Hours
Dinner 4:00pm Columbia Restaurant - see below, gratuity Included.
Night of Lights Private Trolley Tour 6:15pm
Home
Private Dining room: Includes- * * * ENSALADA * * *

Columbia's Original "1905" Salad™
Crisp iceberg lettuce with julienne of baked ham, natural Swiss cheese, tomato,
olives, grated Romano cheese and our famous garlic dressing.
* CHOICE OF ENTRÉE * * * *
1. Boliche "Criollo"
Roasted eye round of beef stuffed with chorizo and roasted in a flavorful gravy.
Served with black beans, white rice and platanos. A family favorites!
2. Pollo Manchego
Boneless chicken breast, breaded with seasoned Cuban breadcrumbs and grated
Spanish manchego cheese, sun-dried tomatoes and fresh basil, cooked on a
flat-top griddle. Served with citrus sauce and yellow rice.
3. Roast Pork "A la Cubana"
Generous slices of roast pork with a delicious marinade.
Served like back home in Cuba with black beans, white rice, yuca and platanos.
4. Mahi Mahi "Cayo Hueso"
Grilled boneless fillet of mahi-mahi marinated in citrus juices and grilled.
Served with mojo-marinated onions, yellow rice, and platanos.
A favorite of our longtime friend, banker, marathon runner,
boater and all-around great person, Lynn Culbreath.
* * * CHOICE OF DESSERT * * *
1. Flan
Spanish caramel egg custard, prepared the old-fashioned way,
using only the best ingredients.
2.Key Lime Pie
Today our pies start with a graham cracker crust, and our filling is made from
pasteurized egg yolks, condensed milk and "Nellie & Joe's" Key lime juice.
* Beverages
Coffee, Tea, Soda, Iced Tea

**Gratuity to server Included
*If departing from Plam Bay, please Note this is a long Day Trip
*Walking level 3- Must be able to walk up to 6 blocks
*Day Trips are non-refundable, you can re-sale or giveaway up to the Day of Trip